Want to throw a memorable Over the Hill Birthday Party? Why not plan a grim reaper party. Here are some invitations and matching postage stamps to get your party started in high gear. If you need a Grim Reaper Invitation for your Halloween Party, Contact me at Cool Tees and I will design an invitation without the numbers. Scroll below to see some fun decorating ideas for your Grim Reaper Party.
50th Birthday Funny Grim Reaper Stamps by cooltees
Make custom us stamps on zazzle.
Decorating Ideas
Black table cloth, black foods such as olives, caviar, black beans blueberries, licorice, chocolate dipped fruit, etc.

Visit a thrift store for vintage items like old phones, floppy disks, and anything that is old. Use them as decorations around the party room.
Be sure to bring out the ensure, adult diapers, false teeth (the toy kind) walkers, canes, laxatives, denture cleaners, prune juice, and brainstorm for other fun party items.

Make an adult diaper cake,similar to the baby diaper cakes. Use black ribbon around the diapers. Decorate it with reading glasses or a magnifying glass, denture solutions, Bengay, laxatives,or whatever you think would be funny to the birthday girl or guy.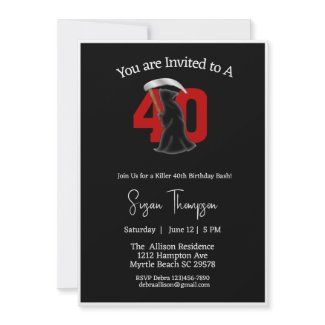 40th Grim Reaper Birthday Invitation by cooltees
See more Grim reaper Invitations
40th Birthday Funny Grim Reaper Postage Stamp by cooltees
Order custom made postage stamps at zazzle.com