This year our Christmas Party will include anUgly Sweater Contest. I Believe it is going to be so much fun. There is no boring party happening here. This Party will be full of fun and giggles.
Part of the fun is finding the ugliest sweater ever. Make it a shopping day with the party goers. The best place I have found is Goodwill. If you don't have one near, any thrift store usually has plenty of them.
First send out invitations.
UGLY SWEATER INVITATIONS

It is always so much fun to send out invitations for parties. It lets your guests know you are serious about this party.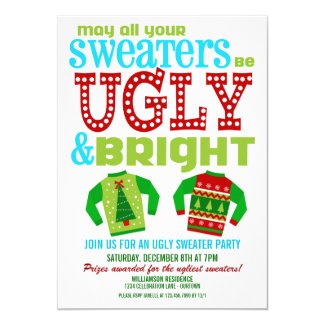 Ugly and Bright Christmas Sweaters Party Custom Invitations
by
reflections06
Browse Christmas Invitations online at
Zazzle.com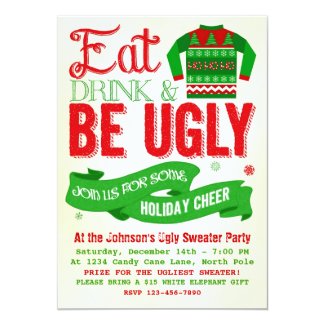 Ugly Sweater Christmas Party Holiday Invitation
by
thatpartygirl
Check out more Tacky Invitations at
Zazzle
HOLIDAY HAIR STYLES
Next we need to find that perfect hairstyle for our Ugly Sweater Party. This Rudolph style is perfect for the party and also for your office party during the holidays.
No Source
A Couple of pipe cleaners, some fun plastic eyes, and a red pom pom put Rudolph right in the middle of all the fun.
Here is the perfect Sweater Cake. It would be simple to make and would make a great centerpiece for the party food table.
Source: Yahoo
Source: myrecipes.com
You will need cute drinks to go with your cute cake. Nothing could be as cuter than these elves hugging a glass. They can be used for non alcoholic drinks too
Love this game to choose a winner of for the Ugly Sweater Contest. It is one of the fairest (and fun) ways I have seen to judge the contest.