I can feel it in the air, Hunting Season is almost upon us ladies. How do I know? The hunting channel stays on all day, and hunting buddies start hanging around your house. Now your husband is pulling out his hunting clothes and gear, and the conversation around the dinner table consists of how do you want the deer packaged this year....burger or stew. The other day my husband asked me, "you wouldn't like to sit in a deer stand with me this year would you?" My thoughts were, well you just asked and answered that question in one sentence.

Even though I feel like a widow during hunting season

I totally support his passion but sitting in a tree stand with no conversation for hours does not sound like fun to me.

I would rather design hunting products than to hunt. I have designed a series of funny quotes for hunters. I have heard my husband say this many times (I'm a slave to the season). Deer hunters are sure to relate to this humorous saying. This is my favorite mug. It is black until you put hot liquids in it, then the image appears. Pure magic.
Funny Deer Hunter Mug by cooltees
Here is a great dart board that will give him hours of entertainment in his man cave.Darts included.
Funny Deer Hunter Dartboard With Darts by cooltees
Great apron for your favorite chef. It will look great as he cooks the big buck he bagged.
Funny Deer Hunter Aprons by cooltees
Here is a great sweatshirt to keep your man warm while he's hunting.
Funny Deer Hunter Sweatshirt by cooltees
Cool pullover hoodie to keep him warm and in style.
Funny Deer Hunter Pullover by cooltees
Fun cap for hunting
Funny Deer Hunter Mesh Hats by cooltees
Spill proof travel mug
Funny Deer Hunter Coffee Mug by cooltees
This flask is a great gift for a deer hunter. My husband keeps water in his, but any beverage can be easily transported.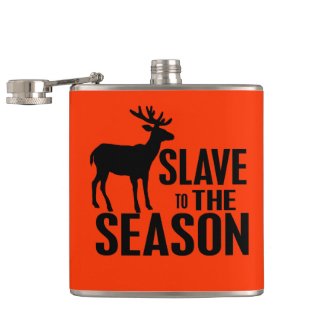 Funny Deer Hunter Fask by cooltees
Links to all of the Slave to the Season Products: